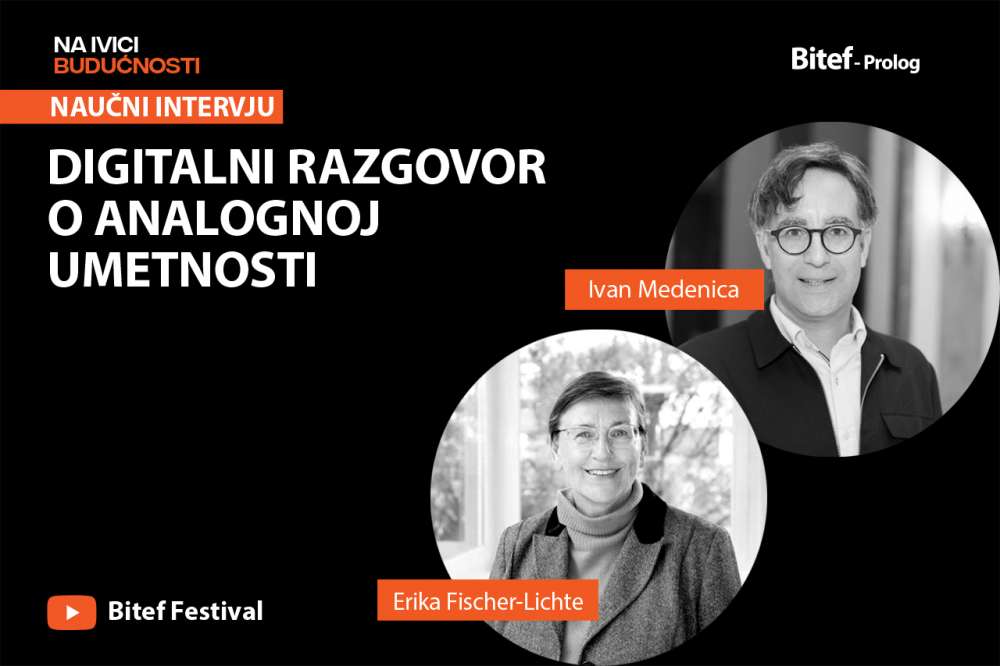 Once upon a time, Peter Brook explained everything very simply: for a theatre, you need an empty space where one man is performing something while someone else is watching him. Contemporary theatre and performance studies, or more accurately, the concept of autopoeitic feedback loop, as defined by the prof. Dr Erika Fischer-Lichte, theoretically deepens that concept. According to Fischer-Lichte, what actors, directors and other artists prepare and then perform on stage, is not a performance but just a staging. Only through a physical presence of performers and audience, therefore through a situation which takes place in a physical space, does the mentioned autopoietic feedback loop come to exist, the continual energetic, emotional and spiritual flow and exchange between the two groups, and only that "event" is considered - a performance. In other words, a performance is constituted by the flow, by the exchange, it does not have a material quality; once the performance is over, not a single artefact remains, only material traces of its former (ephemeral) existence.
What kind of challenges does this understanding of theatre and performing arts have to face in the situation of a pandemic? Under the circumstances of necessary physical distancing, which we often mistakenly refer to as "social", this aesthetic essence of theatre is seriously jeopardized: because of that, theatre was one of the rare human activities which was in many parts of the world, including here, completely cancelled. Theatre was trying to come up with various means to persist, mostly via broadcasting of recordings of performances on the Internet platforms. That does represent a rational, pragmatic solution in the crisis, but can such media format be called theatre, even if we refer to it as digital? Can the recordings of the performances be defined as digital theatre or does that definition, still, belong only to a performance which sensibly, conceptually permeates physical and virtual reality?
One should say that regardless of the surge of incompetent interpretations of digital theatre that we have faced during the pandemics, this question is far more easily answered than a similar one which stems from the 54th Bitef artistic focus, i.e. from Bitef-Prologue. It concerns the deliberation of live presence of a performer on stage as a prerequisite for the autopoietic feedback loop. How does this theory persist, how to lend it additional support when live performers on stage are joined or even substituted by - drones, avatars, holograms, and robots? Can we imagine an all-encompassing exchange, a flow, between the performers and audience if we do not presume the existence of artificial intelligence?
This and similar scholarly questions will be the topic of a discussion that the Bitef artistic director Ivan Medenica will lead with prof. Dr Erika Fisher-Lichte, possibly the most renowned international authority on those issues.
Professor Dr. Dr. h. c. Erika Fischer-Lichte is one of the most prolific performance scholars in the German academic landscape. She is director of the International Research Centre "Interweaving Performance Cultures" (since 2008) at Freie Universität Berlin. She is a member of the Academia Europaea, the Academy of Sciences Goettingen, the National Academy of Sciences Leopoldina, the Berlin-Brandenburg Academy of Sciences, International Honorary Member of the American Academy of Arts and Sciences. She had guest professorships in China, India, Japan, Russia, Norway, USA, Sweden, Portugal, Spain, Brazil, and Cuba.
Her research fields are aesthetics, history and theory of theatre. Her wide-ranging work has significantly shaped the discipline of Theaterwissenschaft (Theatre and Performance Studies) in the past decades. Her foregrounding of the performance event and the interactions between performers and spectators emphasizes the transformative power performances can have over their participants. This forms the basis of her research regarding the aesthetics and politics of performances as well as the knowledge they generate, and their related epistemologies. Her publication record is expansive and comprises books on the theory and history of theatre, and performance, in particular on semiotics and performativity, as well as on aesthetics, and INTERART phenomena.
Professor Fischer-Lichte is the author of Transformative Aesthetics (2018, with B. Wihstutz), Tragedy's Endurance: Performances of Greek Tragedies and Cultural Identity in Germany Since 1800 (2017), The Politics of Interweaving Performance Cultures (2014).